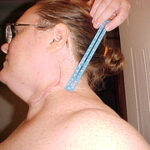 Researchers at Memorial Sloan-Kettering Cancer Center, in New York City studied whether acupuncture reduces pain and dysfunction in patients with squamous cell cancer and a history of neck dissection (photo) — a surgical procedure used to control neck lymph node metastasis.
First, the details.
58 patients with chronic pain or dysfunction attributed to neck dissection were randomly assigned to a treatment group for 4 weeks.

Acupuncture weekly
Usual care (eg, physical therapy, use of pain medicine and/or anti-inflammatory drugs, per patient preference or physician recommendation).

The Constant-Murley score, a composite measure of pain, function, and activities of daily living, was recorded.
Xerostomia (dry mouth due to a lack of saliva) was also assessed.
And, the results.
Constant-Murley scores improved significantly more in the acupuncture group.
Acupuncture produced significantly greater improvement in reported xerostomia.
The bottom line?
The authors concluded, "Although further study is needed, these data support the potential role of acupuncture in addressing post-neck dissection pain and dysfunction, as well as xerostomia."
4/22/10 20:45 JR