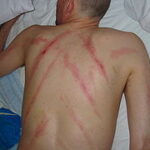 Guasha (aka Gha Sha) is used in Chinese medicine to control pain. It uses tools to scrape or rub the surface of the body to relieve blood (Xue) stagnation (video here).
Researchers from the Korea Institute of Oriental Medicine, in Daejeon, South Korea reviewed the supporting evidence.
First, the details.
7 studies were included in the review.

In 5, the people were randomly assigned to a treatment or a comparison group.

2 compared Guasha vs acupuncture for effectiveness.
The others compared Guasha with no treatment (1 studies), acupuncture (4 studies), herbal injection (1 study) and massage or electric current therapy (1 study).
And, the results.
The results from 2 studies suggested favorable effects of Guasha on pain reduction and response rate.

However, the quality of these studies was poor.

Another study reported beneficial effects of Guasha on musculoskeletal pain but was poorly designed.
The bottom line?
The authors concluded, "Current evidence is insufficient to show that Guasha is effective in pain management."
3/14/10 20:39 JR