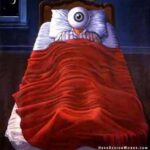 Sleeplessness is a common problem that affects quality of life.
Researchers at the University of Sheffield, in the UK reviewed the evidence.
First, the details.
A literature review revealed 4 studies that compared homeopathic medicines to placebo.

All involved small patient numbers and were poorly designed or conducted, according to the authors.

No well-designed studies of treatment by a homeopath was identified.
There were more than 2600 reports on individual patients.
And, the results.
None of the 4 studies demonstrated a statistically significant difference in outcomes between the homeopathic treatment and placebo.
However, 3 studies found that each treatment (homeopathy and placebo) was associated with significant improvements over the starting level of sleeplessness.
The bottom line?
The authors concluded, "The limited evidence available does not demonstrate a statistically significant effect of homeopathic medicines for insomnia treatment."
Better designed studies that included higher numbers of patients might correct this deficiency. Until then, the authors tell us, they can't recommend a homeopathic alternative.
Earlier this year, and probably not included in the review, researchers at Durban University of Technology, in South Africa were able to report a difference between homeopathic treatment and placebo. Researchers treated 30 chronic insomniacs for at least a month, with follow up visits every 2 weeks. Based on the patients' entries in sleep diaries and the results based on the sleep impairment index, duration of sleep increased significantly throughout the study among those taking homeopathic simillimum compared to placebo.
Simillimum is defined as the homeopathic remedy that produces the set of symptoms most like that which the disease produces.
3/14/10 19:05 JR