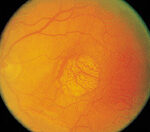 It's a leading cause of visual loss in older adults and has limited treatment options.
Researchers from the National Institutes of Health, in Bethesda, Maryland reviewed the evidence for using nutritional supplementation to treat age-related macular degeneration (AMD).
Here's what we know.
There are many studies of supplements to treat AMD

The Age-Related Eye Disease study (AREDS) is the only large and well-controlled study.
It showed a 25% beneficial effect of nutritional supplementation to reduce the risk of progression to advanced AMD in patients with intermediate or advanced AMD in 1 eye after 5 years of follow-up.

Based on these results, patients are recommended to take the AREDS formulation of anti-oxidants, zinc, and copper.

Vitamin C 500 mg
Vitamin E 400 IU
Beta-carotene 15 mg
Zinc 80 mg in the form of zinc oxide
Copper 2 mg in the form of cupric oxide
The bottom line?
There's insufficient evidence to recommend routine nutritional supplementation in healthy adults in order to prevent the onset of AMD. However, concluded the authors, "Patients with intermediate risk of AMD or advanced AMD in 1 eye should consider taking AREDS-type supplements."
Last year, researchers from Harvard Medical School in Boston recommended that based on the results from their study, women at high risk of cardiovascular disease might reduce their risk of AMD by taking daily supplementation of folic acid, pyridoxine hydrochloride (vitamin B6), and cyanocobalamin (vitamin B12).
3/11/10 18:34 JR