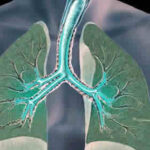 Researchers at the Canadian Memorial Chiropractic College, in Toronto, Ontario reviewed the evidence.
First, the details.
8 articles were included in the review.

4 were studies, the rest were case histories and surveys.
And, the results.
Overall, there was some improvement, but in no case was the response to treatment statistically significant.
The bottom line?
The authors concluded, "At this time, the evidence suggests chiropractic care should be used as an adjunct, not a replacement, to traditional medical therapy."
The findings were also negative in earlier review published in 2006.
Chiropractic isn't among the most commonly used CAM options among people with asthma, according to this 2007 review.
3/16/10 20:06 JR