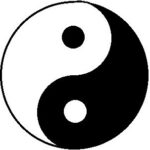 Workplace computer use is linked to musculoskeletal disorders, a leading cause of work disability and productivity losses.
Researchers at York University in Toronto, Canada are the first to study the physiological and emotional effects of tai chi as a workplace physical exercise.
First, the details.
52 participants enrolled in a class by a professional tai chi practitioner during their lunch hour.
Tai chi consisted of 2, 50-minute classes per week for 12 consecutive weeks.
Socio-demographic characteristics: age, marital status, ethnicity, job category, and perceived overall health were collected.
Fitness was assessed before and after the study, including resting heart rate and blood pressure, body fat distribution, and musculoskeletal and back fitness.
Psychological well-being was assessed by the Perceived Stress Scale.
And, the results.
There were significant improvements in resting heart rate, waist circumference, and hand grip strength.
There was also improvement in musculoskeletal fitness and psychological well-being.
The bottom line?
In the large class tested here, tai chi showed potential as an economic, effective, and convenient workplace intervention, concluded the authors.
More research to confirm these physical and psychological findings are in order, and then another to prove the potential for tai chi to reduce lost time at work in a cost effective manner are needed.
3/16/10 19:29 JR