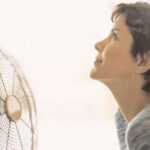 Because hot flashes usually persist for years after menopause, meaningful hot flash therapy should be effective for a long time.
So, how long should patients be followed?
The FDA requires 12 weeks for industry-initiated hot flash trials, whereas most academic-initiated trials range from 4 to 12 weeks.
Researchers from Buffalo, New York searched for a middle ground.
First, the details.
They identified studies showing a nonhormonal hot flash therapy to be effective early on only to become ineffective later (ie, short-term but not long-term efficacy).
They considered the longest early time point of efficacy from the studies plus 1 additional week as the minimum treatment duration to assess long-term effectiveness.
And, the results.
3 target studies were identified.
They included Bellergal Retard (ergotamine/belladonna/phenobarbital), soy, and venlafaxine (Effexor)
At 2, 6, and 7 weeks, respectively, was the last time they were effective before subsequently losing benefit.
The bottom line?
The authors concluded that 8 weeks is the minimum duration for a study of treatment of hot flushes.
The answer to this question is important because for a pharmaceutical company and researcher, time is money. It's also important for healthcare providers and patients attempting to find the best treatment for hot flashes.
I think any researcher of hot flush treatment would be hard pressed to defend 8 weeks rather than 12 based on the results presented in this study.
So, why is this study important?
Only because it's an example of just 1 of many issues researchers must deal with when contemplating and designing a study.
The government of Australia has published The Australian Clinical Trial Handbook. It's a practical guide to the conduct of clinical studies to international standards of good clinical practice. It addressed this and other issues, and is worthwhile for anyone contemplating a CAM study.
3/7/10 21:46 JR