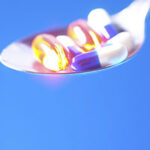 Prof. Ernst reviewed popular herbal medicines.
It's a long list.
First, the details.
The findings are based on128 reported cases and 80 studies.
And, the results.
St John's wort (Hypericum perforatum) reduces the blood levels of…

Alprazolam (Xanax)
Amitriptyline (Elavil)
Atorvastatin (Lipitor)
Chlorzoxazone (Parafon Forte)
Ciclosporin (Neoral)
Debrisoquine
Digoxin (Lanoxin)
Erythromycin (Erythrocin)
Fexofenadine (Allegra)
Gliclazide (Glipizide)
Imatinib (Gleevec)
Indinavir (Crixivan)
Irinotecan (Camptosar)
Ivabradine (Procoralan)
Mephenytoin (Mesantoin)
Methadone
Midazolam (Versed)
Nifedipine (Procardia, Adalat)
Omeprazole (Prilosec)
Oral contraceptives
Quazepam (Doral)
Simvastatin (Zocor)
Tacrolimus (Prograf)
Talinolol (Cordanum)
Verapamil (Calan)
Voriconazole (Vfend)
Warfarin (Coumadin)

More suggested interactions of St John's wort with…

Adrenergic vasopressors
Anesthetics
Bupropion (Wellbutrin, Zyban)
Buspirone (Buspar)
Eletriptan (Relpax)
Loperamide (Imodium)
Nefazodone (Serzone, Nefadar)
Nevirapine (Viramune)
Paroxetine (Seroxat, Paxil)
Phenprocoumon (Marcoumar)
Prednisone
Sertraline (Zoloft)
Theophylline (Aminophylline)
Tibolone (Xyvion)
Tryptophan
Venlafaxine (Effexor)
Ginkgo (Ginkgo biloba) decreases the blood concentrations of…

Omeprazole (Prilosec)
Ritonavir (Norvir)
Tolbutamide (Orinase)

There may also be interactions between ginkgo and…

Antiepileptics
Aspirin (acetylsalicylic acid)
Diuretics
Ibuprofen (Advil, Motrin)
Risperidone (Risperdal)
Rofecoxib (Vioxx)
Trazodone (Desyrel)
Warfarin (Coumadin)
Ginseng (Panax ginseng) may interact with…

Phenelzine (Nardil)
Warfarin (Coumadin)
Kava (Piper methysticum) interacts with the following drugs.

Chlorzoxazone (Paraflex, Parafon Forte)
Alprazolam (Xanax)
Levodopa (L-DOPA)
Paroxetine (Seroxat, Paxil)
Garlic (Allium sativum) interacts with…

Chlorpropamide (Diabinese)
Fluindione (blood thinner)
Ritonavir (Norvir)
Warfarin (Coumadin)
Chlorzoxazone (Paraflex, Parafon Forte)
Echinacea might interact with…

Caffeine
Midazolam (Versed)
No interactions have been reported for saw palmetto (Serenoa repens).
The bottom line?
These are among the most commonly used herbals in the US.
What's most impressive is the large number of drug interaction documented.
3/20/10 17:30 JR