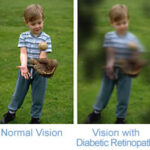 Most often, diabetic retinopathy causes no symptoms until the eye damage becomes severe.
In this study, researchers from G D'Annunzio University, in San Valentino, Italy studied the effects of Pycnogenol in the early stages of retinopathy.
First, the details.
46 patients with type 2 diabetes mellitus that was controlled for at least 4 years (A1c less than 7%) were assigned to a treatment group for 2 months.

Pycnogenol, 3, 50 mg tablets taken in the morning after breakfast
Placebo

All had a moderate degree of diabetic retinopathy.
Patient's visual acuity was assessed using the Snellen Chart (the typical eye chart).
Diabetic retinopathy was evaluated using an ophthalmoscope.
And, the results.
Retinal edema and thickness significantly improved with Pycnogenol vs placebo, which showed negligible changes compared to the start of the study.
The central retinal artery showed a statistically significant increased blood flow with Pycnogenol compared to marginal effects in the control group.
Visual improvement was subjectively perceived by 18 out of 24 patients taking Pycnogenol.
Visual acuity significantly improved after 2 months of Pycnogenol treatment, whereas no change was found in the control group.
The bottom line?
The authors concluded, "Pycnogenol taken at this early stage of retinopathy may enhance retinal blood circulation accompanied by regression of edema, which favorably improves vision of patients."
Others who have reviewed the evidence agree that Pycnogenol has a positive effect on diabetic retinopathy.
Pycnogenol is the brand name of a standardized extract of the bark of the French maritime pine (Pinus pinaster).
3/2/10 21:04 JR