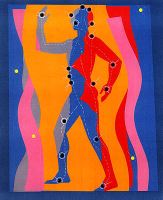 Researchers from The Beth Israel Deaconess Medical Center, in Boston compared true and sham acupuncture in relieving symptoms of irritable bowel syndrome.
First, the details.
230 adults with irritable bowel syndrome were randomly assigned to treatment group for 3 weeks.

True acupuncture (6 treatments)
Sham acupuncture (6 treatments)
A wait list control group

This treatment followed 3-weeks of sham acupuncture in an "augmented" or "limited" patient-practitioner interaction.
The IBS Global Improvement Scale, IBS Symptom Severity Scale, IBS Adequate Relief, and the IBS Quality of Life scales were used to assess outcomes.
And, the results.
There was no statistically significant difference between acupuncture and sham acupuncture on the IBS Global Improvement Scale.
Both groups improved significantly vs the wait list control group.
There were no differences in the other evaluations.
Side effects were generally mild and only slightly greater in the acupuncture group.
The bottom line?
The authors concluded, "This study did not find evidence to support the superiority of acupuncture compared with sham acupuncture in the treatment of irritable bowel syndrome."
A recent review of CAM for irritable bowel syndrome came to the same conclusion — no evidence to support its use.
Similarly, another review  found no difference between real and sham acupuncture.
Researchers from the Karolinska Institutet, in Stockholm, Sweden suggest it's inappropriate to conduct studies that compare real vs sham acupuncture. Rather, the response to acupuncture should be compared with the standard treatment, taking into consideration patient factors that might affect the outcome.
6/25/09 19:10 JR