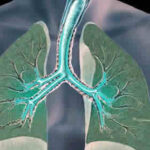 Researchers in Brazil studied infants from low-income families with high risk of asthma.
Their results were reported during the 2010 Annual Meeting of the American Academy of Allergy, Asthma & Immunology and reported in Medical News Today.
First, the details.
104 newborms were studied.
Allergen and endotoxin exposure, infection, and breastfeeding were compared to the instances of persistent wheezing.

Persistent wheezing was defined as having ever received wheezing treatment with inhaled corticosteroids and beta-2 agonists in the past year.

Infections of the upper or lower respiratory tract requiring antibiotic treatment were recorded.
Dust samples were collected from the bedding and floor of the infants' bedroom with testing for endotoxin (a structural component of bacteria) and major allergens.
An allergy test was used to determine IgE antibodies in the blood as a sign of allergy.
And, the results.
At 60 months, 19% of children had persistent wheezing.
However, during the first 12 months of life only respiratory infection was associated with wheezing.
Exposure to allergens and endotoxin, and exclusive breastfeeding for 6 months had no effect on development of asthma.
Sensitization to a house dust mite called D. Pteronyssinus was found in 27% of children, but this was not associated with persistent wheezing.
The bottom line?
The rationale for the study was based on earlier research that showed infants were exposed to high levels of endotoxin and allergens (mite and cockroach) in daycare centers.
This study suggests it has no effect on development of asthma.
It doesn't imply that exposure to mites and la cucaracha is a good thing.
2/28/10 19:11 JR