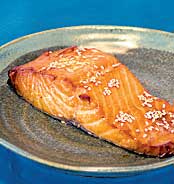 They appeared in an issue of the American Journal of Clinical Nutrition along with an editorial that helped put it all in perspective.
Let's summarize the results.
Predicting dementia risk
High blood levels of eicosapentaenoic acid (EPA) (an omega-3 fatty acid) may decrease the risk of dementia.
High ratios of omega–6 to omega–3 fatty acids (due to lower levels of omega-3) may increase the risk of dementia, especially in depressed older persons.
Mental well-being
There was no effect of EPA and docosahexaenoic acid (DHA) (omega-3 fatty acids) supplementation given for 26 weeks on mental well-being in adults 65 years or older.
By comparison, studies in younger adults have shown benefit.
In elderly, acutely sick patients, low levels of EPA were associated with a higher risk of death.
However, only patients with the lowest levels might have benefited from omega–3 supplementation.
The bottom line?
In an accompanying editorial, Dr. William Harris from the University of South Dakota in Sioux Falls provides perspective.
For dementia risk, it's tempting to say, just raise the omega-3 levels; but several studies are underway that will help clarify the best way to address the omega-6 to -3 ratio imbalance.
For mental well-being, one might suggest giving higher doses; but it's more likely that "what's done is done." At 70 years of age, supplementation might simply be unable to alter emotion or mentation.
With respect to mortality, it's fair to say that higher tissue omega–3 FA (at least EPA) concentrations appear to be protective. But the lowest omega-3 levels in Norwegians, might translate to the highest levels in the United States, where the omega–3 intake is much lower.
9/8/08 10:05 JR