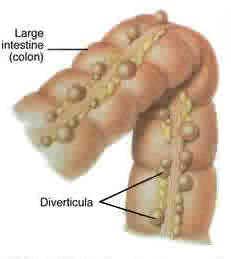 Eating nuts, corn, and popcorn don't increase the risk of diverticulosis (pouches in the lining of the colon that bulge through weak spots) or its complications, according to researchers from the US and Canada.
First, the details.
More than 47,000 adult men who were free of diverticulosis or its complications completed a food-frequency questionnaire.
They were monitored from 1986 to 2004.
Men reporting newly diagnosed diverticulitis (pouches in the large intestine with inflammation) or diverticulosis were mailed supplemental questionnaires.
And, the results.
There were 801 cases of diverticulitis and 383 cases of bleeding related to diverticulosis.
There was an inverse association between nut and popcorn consumption and the risk of diverticulitis — eating more was associated with less risk!
No associations were seen between eating corn and diverticulitis.
There was no relationship between eating nuts, corn, or popcorn and diverticular bleeding or uncomplicated diverticulosis.
The bottom line?
The authors concluded, "The recommendation to avoid these foods to prevent diverticular complications should be reconsidered."
This is apparently the first time anyone has questioned the dogma to avoid nuts, corn, and popcorn. It was assumed that foods with poorly digested particles, such as nuts, corn, and seeds, are abrasive or apt to lodge within diverticula.
The implications of these findings are great considering that about 10% of Americans older than 40 years have diverticulosis, and this increases to about half of all people older than 60 years.
Speaking on Medscape, Dr. David Johnson from Eastern Virginia School of Medicine in Norfolk is impressed with the results. He recommends that healthcare professionals discuss the findings with their patients.
I agree they should be told, but my guess is that for older patients in particular, it would be an uphill fight to convince them to change their diet, and probably not worth the effort.
Of course, after so many years of "cheating" on their diet, they're just as likely to be relieved.
9/9/08 18:41 JR