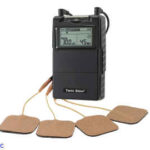 Researchers from Sahlgrenska University Hospital/Östra, in Göteborg, Sweden compared high-frequency, high-intensity transcutaneous electrical nerve stimulation (TENS) vs intravenous conventional pharmacological treatment after surgical abortion.
First, the details
200 women who underwent surgical abortion and reported a visual analogue scale (VAS) pain score of at least 3 were randomly assigned to a treatment group.
TENS treatment was given with a stimulus intensity between 20 and 60Â mA during 1Â minute and repeated once if insufficient pain relief (VASÂ at least 3)
A maximum dose of 100 μg fentanyl (Sublimaze) given IV.
And, the results.
There was no difference between groups in pain relief upon discharge from the recovery ward.
Patients in the TENS group spent less time (44Â minutes) in the recovery ward than the fentanyl group (62Â minutes).
The number of patients who needed additional analgesics in the recovery ward was comparable in both groups, as was the VAS pain score upon leaving the hospital.
The bottom line?
The authors concluded, "These results suggest that the pain-relieving effect of TENS seems to be comparable to conventional pharmacological treatment with IV opioids."
TENS was no different from fentanyl except in 1 outcome — time 'till discharge from the recovery room – which, in the absence of blinding the nursing staff to the treatment, is a suspect difference.
It would be interesting to survey the staff's thoughts on the comparative convenience of TENS vs fentanyl, and measure safety.
1/5/10 20:27 JR