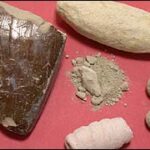 The Texas Department of State Health Services and FDA have notified healthcare professionals and consumers, especially pregnant or breastfeeding women, to avoid consuming a product called Nzu, taken as a traditional remedy for morning sickness.
There's a potential health risks from high levels of lead and arsenic.
Exposure to lead can result in a number of harmful effects, and a developing child is particularly at risk of effects on the brain and nervous system.
Arsenic is a carcinogen, and excessive long-term exposure to it is associated with a range of adverse health effects, including cancers of the urinary bladder, lung and skin.
Nzu, which is sold at African specialty stores, is also called Calabash clay, Calabar stone, Mabele, Argile and La Craie. It generally resembles balls of clay or mud and is usually sold in small plastic bags with a handwritten label identifying it as Nzu or Salted Nzu.
Anyone who has been using this product should contact their healthcare provider.
1/1/10 00:11 JR