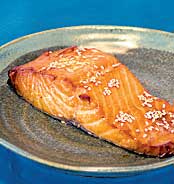 Researchers from the German Research Center for Environmental Health, in Neuherberg studied the association between eating fish and the risk of developing allergic diseases in adults.
First, the details.
388 adults completed extensive questionnaires.
Lung function and IgE testing were also done.

More on this is at Allergy Capital.
And, the results.
Higher fish intake was associated with less allergic sensitization in women but not in men.
No other effect was related to eating fish or omega-3 consumption.
The bottom line?
The authors concluded, "The findings… suggest that adult females with a high fish and DHA [docosahexaenoic acid in omega-3] intake have a lower rate of allergic sensitization.
Why men didn't respond the same is a mystery.
5/28/09 10:55 JR