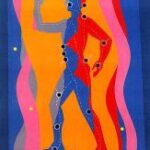 Researchers at Johns Hopkins University School of Medicine, in Baltimore, Maryland studied cancer patients during bone marrow aspiration and biopsy.
First, the details.
77 adult cancer patients who never had bone marrow aspiration and biopsy were randomly assigned to a treatment group.

Magnetic acupressure at large intestine 4 point
Non-acupuncture point (placebo) located on the hand

The patients, biopsy operator, and data collector were not aware of the treatment given.
A visual analog scale (VAS) was used to measure the pain associated with the procedure.
The acupressure operator was not aware of the patient's baseline pain scores and the pain associated with the procedure.
And, the results.
Only 1 patient (2.7%) treated with magnetic acupressure experienced severe pain (VAS greater than 6) vs 8 patients (20%) in the placebo group — a significant difference.
The odds of a patient experiencing severe pain during biopsy procedure were 8 times higher with placebo vs acupressure.
None of the patients in either group reported significant side effects or discomfort related to acupressure.
The bottom line?
The authors concluded, "These results suggest that magnetic acupressure significantly reduces the proportion of patients experiencing severe pain during bone marrow aspiration and biopsy."
Furthermore, "it could be readily incorporated as a treatment option in this patient population."
12/11/09 23:09 JR