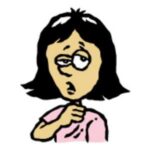 Researchers in Switzerland compared Echinacea/sage to chlorhexidine/lidocaine.
First, the details.
154 children with acute sore throat for not more than 72 hours were assigned to a treatment group.

Echinacea/sage spray
Chlorhexidine/lidocaine spray

2 puffs every 2 hours were taken up to 10 times daily until becoming symptom-free for a maximum of 5 days.
Response was defined as a decrease of at least 50% in total symptoms compared to the start of the study.
Neither the patients nor researchers knew the treatment given — double blind.
And, the results.
Treatments were similarly effective during the first 3 days.
Response after 3 days was 64% with echinacea/sage vs 58% with chlorhexidine/lidocaine.
Time to becoming symptom free, resolution of throat pain, and effectiveness as judged by the physician and patient didn't differ.
Both treatments were well tolerated.
The bottom line?
The authors concluded, "An echinacea/sage preparation is as efficacious and well tolerated as a chlorhexidine/lidocaine spray in the treatment of acute sore throats."
It's apparently pretty easy to buy echinacea throat spray. These researchers concluded it's safe. However, Bioforce (A. Vogel) Echinacea Throat Spray, which contains sage and echinacea, has a list of cautions.
Not recommended for children under 6 years of age.
Not recommended for people with epilepsy.
There is a theoretical risk that thujone, an essential oil found in sage, can adversely affect pre-existing epilepsy.
Do not breathe during application.
Do not spray into the nose.
Use the spray after meals.
Do not use if you are allergic to echinacea or any other members of the daisy family.
Not recommended during pregnancy and breastfeeding unless directed by a healthcare professional.
Keep out of reach and sight of children.
11/5/09 21:44 JR