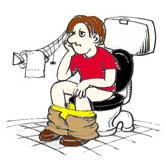 It decreased the severity of gastrointestinal symptoms, according to researchers at Umeå University in Sweden.
First, the details.
60 people with constipation were randomly assigned to 2 groups.

Abdominal massage in addition to an earlier prescribed laxative
Control group that took only laxatives according to earlier prescriptions

Gastrointestinal function was assessed with the Gastrointestinal Symptoms Rating Scale (GSRS) at the start of the study, week 4 and week 8.
And, the results.
Abdominal massage significantly decreased severity of gastrointestinal symptoms, constipation, and abdominal pain.
Abdominal massage was associated with a significant increase of bowel movements compared to the control group.
There was no difference in the amount of laxative used after 8 weeks.
The bottom line?
Based on the finding that laxative use did not change, the researchers concluded, "Abdominal massage could be a complement to laxatives rather than a substitute."
There's limited research in this area. A PubMed search of massage and constipation yielded the following studies.
Functional bowel disorders
Massage therapy was used by 12% of patients
Children with cancer
A review of the literature revealed that massage therapy might be useful to treat constipation and other symptoms.
A video that illustrates abdominal massage technique is here.
2/18/09 17:23 JR