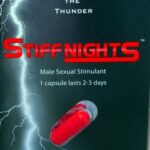 This product is labeled as an "all natural dietary supplement" for natural sexual enhancement. But it's not all natural, according to the FDA.
A representative from the company comments below to set the record straight (no pun intended).
Following a consumer complaint, the FDA determined that Stiff Nights contains sulfoaildenafil. This is a chemical similar to sildenafil, the active ingredient in Viagra.
Sulfoaildenafil may interact with prescription drugs known as nitrates, including nitroglycerin, and cause dangerously low blood pressure.
The bottom line?
Stiff Nights is distributed via Internet sites and at retail stores by Impulsaria LLC of Grand Rapids, Mich. It's sold in bottles containing 6, 12, or 30 red capsules or in blister packs containing 1 or 2 capsules.
Don't be fooled, just because it claims to be an "all natural dietary supplement," don't assume it's harmless and poses no health risk. In fact, Stiff Nights is illegally marketed and can cause serious complications.
11/5/09 19:08 JR