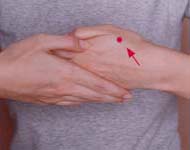 Capsicum plaster at classical Chinese acupoints is an alternative to acupuncture for preventing postoperative nausea and vomiting, sore throat, and pain.
Researchers from Hanyang University Hospital in Seoul, Korea studied capsicum plaster at Hegu (LI 4) acupoints (photo) in patients after orthognathic surgery.
Orthognathic surgery is used to correct conditions of the jaw and face related to structure, growth, sleep apnea, TMJ disorders or to correct orthodontic problems that cannot be easily treated with braces.
First, the details.
84 patients having orthognathic surgery were randomly assigned to 3 treatments.

Hegu group: capsicum plaster at Hegu acupoints and placebo tape on the shoulders as a nonacupoint
Sham group: capsicum plaster on the shoulders and placebo tape at Hegu acupoints
Control group: placebo tape at Hegu acupoints and on the shoulders.

Capsicum plaster was applied before anesthesia and maintained for 8 hours per day for 3 postoperative days.
Neither researchers nor patients knew the treatment given — double-blind.
And, the results.
The amount of patient-controlled analgesia administered in the first 24 hours after the operation decreased significantly in the Hegu group (27 mL) vs control (44 mL) and sham (42 mL) groups.
The incidence of postoperative nausea and vomiting and the need for "rescue" pain medication were reduced.
Overall satisfaction was significantly greater in the Hegu group vs the other groups.
The bottom line?
The authors concluded, "The capsicum plaster at the Hegu acupoints decreased the postoperative opioid requirements and opioid-related side effects in patients after orthognathic surgery.
2/22/09 20:20 JR