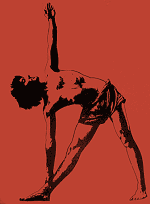 The results of this study in Turkey suggest that yoga combined with range of motion exercises improves quality of life in patients receiving hemodialysis.
First, the details.
37 patients from the hemodialysis unit participated for 12 weeks.
They were randomly assigned to modified yoga-based exercise or a control group.
Yoga-based exercises were done in groups for 30 minutes each day twice a week.
All patients were given active range of motion exercises to do for 10 minutes at home.
A visual analog scale (aka Likert scale) was used to record their responses.
And, the results.
Significant improvements with yoga compared to the control group were seen in pain -37%, fatigue -55%, sleep disturbance -25%, and grip strength +15%.
There was also significant improvement in laboratory values for urea -29%, creatinine -14%, alkaline phosphatase -15%, cholesterol -15%, red blood cells +11%, and hematocrit count +13%.
No side-effects were seen.
The bottom line?
The authors concluded: "A simplified yoga-based rehabilitation program is a complementary, safe and effective clinical treatment modality in patients with end-stage renal disease."
This seems to be the first study to evaluate yoga in kidney dialysis patients.
8/24/07 17:57 JR