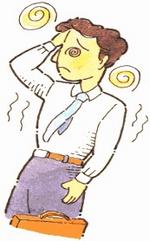 Meniere's syndrome damages the balance and hearing parts of the inner ear.
Researchers from the University of Leeds, in the UK reviewed the effects of acupuncture.
First, the details.
27 studies were reviewed (9 in English, 18 in Chinese languages)
All but one study was conducted in China.
The studies were of varying quality.
And, the results.
The studies covered body acupuncture, ear acupuncture, scalp acupuncture, fluid acupuncture point injection, and moxibustion.
The weight of evidence supports a beneficial effect from acupuncture during the acute phase and in people who have had Meniere's syndrome for a number of years.
The bottom line?
The authors concluded, "The transferability of the findings from China to a Western context needs confirmation."
Further research is also needed to clarify questions around the appropriate frequency and number of treatment/courses of acupuncture.
6/11/09 20:32 JR