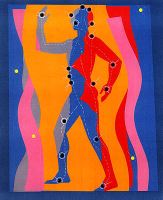 Acupuncture is often used as a treatment for dementia.
Prof. Ernst has reviewed the evidence for acupuncture to treat Alzheimer's disease.
First, the details.
3 studies were worth reviewing.
2 of the studies assessed the effectiveness of acupuncture on cognitive function compared with drug therapy.
And, the results.
The results suggested no benefit from acupuncture.
1 of 2 studies reported favorable effects of drug therapy compared to acupuncture for activities of daily living, while the other didn't.
A meta-analysis of the data showed significant benefits of drug therapy compared to acupuncture.
The bottom line?
Considering the limited value of drugs for Alzheimer's disease, any comparison to an alternative treatment sets the bar low.
Prof. Ernst and colleagues concluded, "Even though the number of studies is small, the existing evidence does not demonstrate the effectiveness of acupuncture for Alzheimer's disease.
In a related condition, vascular dementia — dementia associated with problems in the circulation of blood to the brain (cerebrovascular disease) — includes a range of conditions where the principal feature is loss of intellectual abilities. Unlike with most forms of Alzheimer's disease, the cause of vascular dementia is known.
And acupuncture doesn't seem to be effective for this condition either. A Cochrane review concluded that although there were more than 105 studies of acupuncture for treating vascular dementia, there were "no randomized controlled studies, and high quality trials [were] few," according to the researchers.
6/8/09 21:39 JR