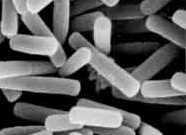 This study by researchers at the University of Toronto focused on the management of anxiety.
First, the details.
39 adults with chronic fatigue syndrome were randomly assigned to a treatment for 2 months.

24 billion colony forming units of Lactobacillus casei strain Shirota (LcS) daily
Placebo daily

Patients provided stool samples to check for the probiotic.
And they completed the Beck Depression and Beck Anxiety Inventories before and after treatment.
Neither the patients nor researchers knew the treatment given — double-blind.
And, the results.
There was a significant rise in both Lactobacillus and Bifidobacteria in those taking LcS.
There was also a significant decrease in anxiety symptoms among those taking the probiotic vs. controls.
The bottom line?
But what's the connection between changes in intestinal bacterial makeup and improved mental health?
The authors explain that the idea of implanting the intestines with Lactobacillus strains to improve quality of life and mental health is not a new.
They review the supporting research and conclude, "The results suggest that specific strains of probiotic bacteria may have a role to play in mediating some of the emotional symptoms of chronic fatigue syndrome and other related conditions."
It's a small study, and the researchers can't discount "that the decreased anxiety was a consequence of improved bowel function."
More research, please.
4/14/09 1:43 JR