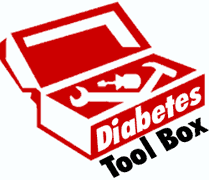 Giving people with type 2 diabetes the opportunity to manage their care through the Internet improved long-term blood sugar control, according to this study by researchers at the University of Washington, in Seattle.
First, the details.
83 adults with type 2 diabetics were assigned to a treatment group for 15 months.

Usual care + Internet
Usual care only

All participants had A1c of 7% or higher, indicating poor blood sugar control.

A1c is the best test for long-term response to diabetes treatment.

The Internet program began with a 1-hour visit with a nurse care manager where an action plan was created.
The Web-based program included home access to the electronic medical record, secure email communications between patients and healthcare providers, and interactive disease management tools.
Patients were encouraged to submit blood sugar readings weekly and to send email messages as needed.
The care manager responded to messages, reviewed blood sugar readings, adjusted medications accordingly, and conferred with the primary care provider as needed.
And, the results.
76% of the participants in the Internet group accessed their medical records online.

Only 43% uploaded blood glucose measurements, however.

Frequent electronic messaging was associated with A1c values of less than 7%.
At 12 months, the average A1c declined to 7.3% in the Internet group, but increased to 8.1% in the usual care group — a significant difference after adjusting for potential confounding factors (age, gender, starting A1c).
33% of the Internet group achieved A1c less than 7% vs. 11% for the usual care group  — a significant difference.
Frequent use of electronic messaging was associated with a higher rate of patient visits to the clinic.
The bottom line?
The authors concluded, "Frequent use of electronic secure messaging is associated with better glycemic control and increased outpatient utilization."
An accompanying editorial pointed out that "the key to the intervention may have been giving the care manager the authority to adjust medications."
Considering that only 43% of patients in the Internet group shared their blood sugar measurements with the care manager, it's possible that higher participation might have lead to better results.
However, any program that increases clinic visits adds expense. Perhaps a longer study might determine if this increase in cost and time is offset by fewer hospitalizations.
4/14/09 16:25 JR