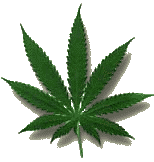 Researchers from Canada and the US studied the effects of marijuana and tobacco on the risk of chronic obstructive pulmonary disease (COPD).
First, the details.
A random sample of 878 adults was surveyed.
Data were collected on their respiratory history and tobacco and marijuana smoking.
Spirometry (lung function) was tested before and after administration of 200 µg of Salbutamol (albuterol, a bronchodilator).
And, the results.
46% of the adults smoked marijuana and 53% smoked tobacco.
The prevalence of current smoking (past year) was 14% for marijuana and 14% for tobacco.
Compared with nonsmokers, those who smoked only tobacco experienced more frequent respiratory symptoms and were more likely to have COPD.

This risk was not found among those who smoked only marijuana.

Concurrent marijuana and tobacco use was associated with increased risk of respiratory symptoms after adjusting for the effects of age, asthma, and other diseases if the lifetime dose of marijuana exceeded 50 cigarettes.
The risks of respiratory symptoms and COPD were related to a synergistic interaction between marijuana and tobacco.
The bottom line?
The authors concluded, "Smoking both tobacco and marijuana synergistically increased the risk of respiratory symptoms and COPD. Smoking only marijuana was not associated with an increased risk of respiratory symptoms or COPD.
The results should be interpreted with caution, say the authors. The number of smokers was small for an epidemiological study. In addition, data on the potency of marijuana, inhalation, proportion of smokers who combined marijuana with tobacco in the same cigarette, and the use of other illegal drugs were not available.
Dr. Donald Tashkin from the David Geffen School of Medicine, in Los Angeles, California reviewed the literature several years ago and concluded, "Physiologic, clinical, or epidemiologic evidence that marijuana smoking may lead to chronic obstructive pulmonary disease or respiratory cancer is limited and inconsistent."
However, there are risks. "Habitual use of marijuana is… associated with abnormalities in the structure and function of alveolar macrophages [white blood cells], including impairment in microbial phagocytosis [ingestion] and killing that is… potentially predisposing to pulmonary infection."
4/15/09 15:10 JR