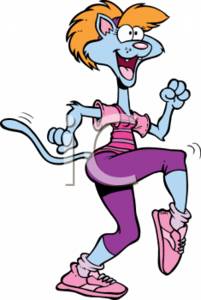 In this study, they didn't increase muscle mass after a 3-month weight lifting program, report researchers from Ball State University, in Muncie, Indiana.
First, the details.
The objective was to examine single muscle fiber contractile function and whole muscle characteristics before and after 12 weeks of high-intensity progressive weight lifting.
Participants were divided into 2 groups.

6 women between 84 and 86 years old and living independently
9 women between 19 and 23 years of age

They did 3 sets of 10 lifts, with a 2-minute rest period between sets.
MRIs and biopsies of thigh muscle were taken before and at the conclusion of the exercise program.
And, the results.
Muscle cell size and quality at the start of the study didn't differ between young and old women.
The octogenarians increased the amount they could lift with their quadriceps by 26%.
However, pre- and post-training MRIs and biopsies showed no change in muscle size of the older women.
The bottom line?
The increase in the amount the women could lift was unrelated to improved muscle strength. Instead, the results were probably due to greater efficiently by the nervous system in activating and synchronizing the muscles, concluded the authors.
A similar study of 74-year-old men and women revealed that the muscle cells of this younger group did respond to the effects of a weight lifting program. So, something changes between the 8th and 9th decades of life.
Accordingly, the authors propose that "older individuals should engage in some resistance training once they reach the age of 60, and take advantage of their ability to gain muscle mass during the 7th and 8th decade of life."
4/2/09 13:58 JR