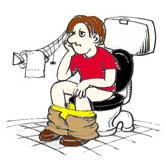 A review of the literature by researchers from the University of Verona in Italy reveals that in the right patient, "For both incontinence and dyssynergic defecation, the benefits of biofeedback last at least 12 months."
Dyssynergic defecation is one of the most common forms of functional constipation both in children and adults.
For fecal incontinence…
Biofeedback that combines strength and sensory discrimination training is effective in about 75% of patients, and more effective than placebo.
However, verbal feedback during extended digital examination by a therapist may be equally effective.
Children whose fecal incontinence is associated with constipation plus fecal impaction do no better with biofeedback than medical management.
For dyssynergic defecation…
Biofeedback that combines pelvic floor muscle relaxation training, practice in defecating a water-filled balloon, and instruction in effective straining is effective in approximately 70% of patients who failed laxative treatment.
The bottom line?
In an earlier article, lead author Dr. Giuseppe Chiarioni stated, "its [biofeedback] effectiveness is specific to patients who have dyssynergic defecation and not slow transit constipation." He continues, "based on 3 randomized controlled studies in the last 2 years, biofeedback appears to be the preferred treatment for dyssynergic defecation in adults."
"However, in children, no clear superiority for biofeedback compared to laxatives has been demonstrated."
More information about biofeedback and chronic constipation is here.
6/4/08 21:33 JR