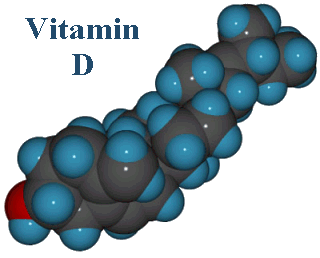 In adults, vitamin D deficiency is associated with osteopenia, osteoporosis, muscle weakness, fractures, cancer, autoimmune diseases, infectious diseases and cardiovascular diseases. And adequate doses might reduce the risk of certain cancers and type 1 diabetes.
The current recommendation of 5 mcg (200 IU) may be too little, according to researchers in Maine and South Carolina.
First, the details.
112 adult women were given a placebo from March to September 2005.
They were then randomly assigned to take placebo or a daily vitamin D3 supplement (20 mcg) until February 2006.
And, the results.
86 women completed the study.
The actual D3 content of the supplements was 22 µg per capsule.
In February 2005 the 25(OH)D blood level was 62 nmol/L.
This level increased by 35 nmol/L during 25(OH)D supplementation.

This  was significantly more than the 11 nmol/L increase with placebo.
The bottom line?
The authors concluded, "Daily supplementation with 20 µg D3 during winter [4 times the current recommended dose for adult women] achieved optimal 25(OH)D concentrations (at least 75 nmol/L) in 80% of participants, indicating that this dose is adequate to optimize vitamin D status in most young women in Maine."
The current recommendations by the American Academy of Dermatology for the best sources of vitamin D include "a healthy diet that includes foods naturally rich in vitamin D, foods/beverages fortified with vitamin D, and/or vitamin D supplements." Sunlight is not a recommended source.
At the end of 2008, the US and Canadian governments announced that the Institute of Medicine would a review vitamin D and calcium research, and this might lead to higher recommended daily intakes.
A historical review of vitamin D can be found here.
3/20/09 11:12 JR