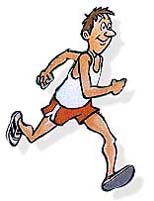 I exercise at night — when I exercise that is.
Research presented during the SLEEP 2008 meeting suggests that night exercising offers a sleep advantage, according to Dr. Giselle Passos from the Federal University of Sao Paulo in Brazil.
First, the details.
36 adults with primary chronic insomnia were evaluated using sleep logs and polysomnography (recording brain waves) in the sleep lab.
There were 4 groups

Moderate aerobic exercise: ran 50 minutes on a treadmill at a pace that kept them below the first ventilatory threshold — a cutoff for moderate exercise.
Heavy aerobic exercise: ran in 3, 10-minute bursts at the second ventilatory threshold, with 10-minute breaks.
Moderate strength training: shoulder presses, leg curls, and abdominal crunches for about 50 minutes
A control group that did not exercise.
An overview of exercise and the ventilatory threshold is here.
And, the results.
There were no changes in sleep for the heavy-exercise and strength-training groups.
But in the moderate exercise group, polysomnography revealed significant results:

54% reduction in sleep-onset latency (time to get to sleep) — 42 minutes at baseline to 19 minutes after exercise.
36% decrease in time spent awake — 147 minutes at baseline to 94 minutes after exercise.
21% increase in total sleep time — from about 5 hours to 6 hours.
18% increase in sleep efficiency (ratio of total sleep time to time in bed) — 65% to 79%.

The sleep logs also showed significant reductions in total sleep time and sleep onset latency.
The bottom line?
In a Medpage Today interview, Dr. Passos said, the results show that "there is a way to diminish the symptoms of insomnia without using medication." And that exercise "may contribute to increased quality of life in people with one of the most important kind of sleep disorders around the world."
Dr. Donna Arand of the Kettering Hospital Sleep Disorders Center in Dayton, Ohio added that people with insomnia are not usually advised to work out in the evening, because exercise has an arousing effect. However, the advantage of exercising later in the day is that it offers an alternative for many people who are too busy to work out during the day.
The best news is that the benefits occur without exercising too hard.
6/26/08 17:27 JR