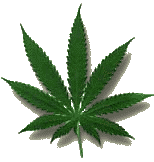 ApoC-III is a risk factor for heart disease. The increased levels observed in marijuana users might explain, in part, the heart and cerebral abnormalities seen in tokers.
TheHeart.org tells us, "Marijuana abuse causes increased resistance to blood flow and may increase the risk of certain cardiovascular disorders."
Researchers from the National Institute on Drug Abuse in Baltimore, Maryland tested the possibility that marijuana use might be associated with changes in serum protein levels.
First, the details.
18 heavy marijuana users and 24 controls were studied.
Blood samples were tested using mass spectroscopy.
And, the results.
Marijuana users had significant increases in 3 protein peaks, including one for apoprotein C3 III (apoC-III).

An increase in apoC-III levels leads to development of high blood levels of triglycerides.

There were significant correlations between apoC-III and triglyceride levels.
The average triglyceride level in marijuana users was 122 mg/dL vs 91 mg/dL in the non-smokers.
High triglyceride levels are defined as greater than 150 mg/dL.
The bottom line?
The authors concluded, "The observed increases in apoC-III in the marijuana users hint of the possibility that chronic marijuana abuse could lead to impairments of cellular energetics and mitochondrial function, which are critical events associated with myocardial infarction, stroke, and ischemic/reperfusion damage."
5/31/08 15:11 JR