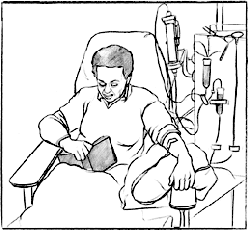 HDL (good) cholesterol went up, while triglyceride levels declined.
And, there's more.
First, the details.
33 patients on kidney dialysis with triglycerides blood levels higher than 200 mg/dL and total cholesterol levels higher than 220 mg/dL were randomly assigned 2-gram pearls of omega-3 per day taken in 2 equal doses, or a control group who did not receive omega-3.
The study lasted 12 weeks.
And, the results.
There was a significant (28%) increase in HDL cholesterol in the omega-3 group.
Triglyceride blood levels decreased significantly in the omega-3 group.
There were no changes in total cholesterol or LDL (bad) cholesterol levels in either group.
The bottom line?
This study shows that "supplementation with low-dose omega-3 has a favorable effect on plasma lipid levels in patients on hemodialysis."
In 2006, researchers from Indiana University School of Medicine in Indianapolis recommended that omega-3 supplementation of dialysis patients was premature until long-term and adverse effects are better defined.
Since then we have learned that taking omega-3 fatty acids "did not reduce the total number of cardiovascular events and death in [a] high-risk population." However, it was associated with "significantly reduced … number of myocardial infarctions as a secondary outcome — a finding that might be of clinical interest."
In addition, we now know that fibrinogen, hemoglobin, platelet, red and white blood cell counts, parathormone, partial thromboplastin time, serum total cholesterol, triglycerides [as reported elsewhere], apolipoprotein A and B, C-reactive protein (CRP) and albumin levels do not change significantly in kidney dialysis patients taking omega-3, nor do homocysteine levels.
4/16/08 21:24 JR