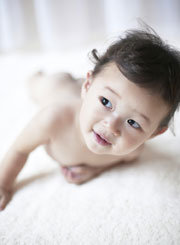 Peanut allergy is associated with a severe food-related allergic reaction. It tends to present early in life, usually does not resolve; and trace quantities can induce an allergic reaction in highly sensitized people.
This study by researchers at the University of Melbourne in Australia looked at the relationship between soy consumption and peanut sensitization in children.
First, the details.
The study monitored 620 babies with a family history of allergic disease.
Dietary information was obtained from telephone interviews every 4 weeks from birth until 15 months and again at 18 and 24 months.
Skin prick tests to peanut, milk, and egg were performed at 6, 12, and 24 months.
And, the results.
Children introduced to soy formula or soy milk were more likely to be sensitized to peanuts at 2 years.
However, this relationship was explained by the confounding factors of feeding soy to children who had siblings with milk allergy or were sensitized to milk.
After adjusting for these factors, there was no evidence of an association between soy consumption and peanut sensitization.
The bottom line?
The authors concluded, "The association between soy consumption and peanut sensitization is not causal but merely a result of preferential use of soy milk in infants with a personal or family history of cow's milk allergy."
These results are supported by an earlier study where the development of immunoglobulin E-associated allergy to soy and peanuts was rare in milk allergic children, and the use of a soy formula during the first 2 years of life did not increase the risk.
4/26/08 20:04 JR