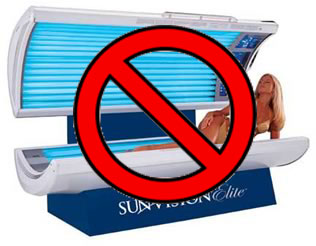 That's the latest recommendation from the American Academy of Dermatology (AAD).
But what about natural sources like sunlight or indoor tanning devices?
Emphatically no. The AAD is opposed to "unprotected exposure to ultraviolet (UV) radiation." And that includes sunlight and tanning parlors.
According to AAD, the best sources of vitamin D come "from a healthy diet that includes foods naturally rich in vitamin D, foods/beverages fortified with vitamin D, and/or vitamin D supplements."
AAD also recommends that "physicians should discuss options for obtaining sufficient dietary or supplementary sources of vitamin D with their patients."
Epidemiological studies suggest an association between low vitamin D blood levels and increased risk of certain types of cancers, neurologic disease, autoimmune disease, and cardiovascular disease.
However, further research is needed to determine the appropriate blood levels of vitamin D needed for overall good health.

Guidelines for vitamin D are listed here.

Higher doses of vitamin D supplementation may be needed for people with known risk factors for vitamin D deficiency — dark skin, elderly, and photosensitive patients.
The bottom line?
AAD's main concern is to have people avoid unprotected exposure to UV radiation — sunlight and tanning devices — in order to reduce ultraviolet-related cancers.
12/6/08 1:01 JR