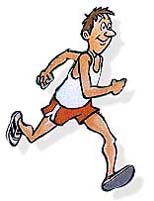 The main problem is motivating people to stick with the program.
During the American Academy of Pain Medicine meeting, Dr. Amy Burleson from the Cleveland Clinic Foundation in Ohio reported that 28 patients (out of a group of 54) completed a 3-week aerobic training program. On average, patients received 5 hours of conditioning each week (10 minutes per session), in addition to routine daily activities.
And, the results.
There was a significant reduction in exercise-induced acceleration of the heart rate (a sign of better conditioning) over the 3-weeks of conditioning.
The brief exercise protocol also produced significant immediate antidepressant effects and reduced anxiety.
The bottom line?
For those who are motivated, brief exercise is a safe, cost-free, nonpharmacological strategy to quickly reduce depression and anxiety.
Dr. Todd Sitzman, president of the American Academy of Pain Medicine, told Medscape that he hopes future studies will be show that pain relief can be obtained with longer-term exercise programs.
2/23//08 13:30 JR