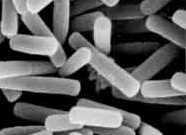 Ventilator-associated pneumonia is a form of pneumonia that occurs in hospitalized patients receiving assisted breathing (mechanical ventilation) through a tube for at least 48 hours.
Researchers in Sweden conducted a study to evaluate the value of a probiotic to prevent the growth of unwanted bacteria along the breathing (endotracheal or tracheostomy) tube.
First, the details.
50 critically ill patients on mechanical ventilation were randomly assigned to 1 of 2 treatments.

Mechanical cleansing followed by washing with 0.1% chlorhexidine solution.

Same cleansing procedure followed by oral application of an emulsion of Lactobacillus plantarum 299 (Lp299).

Chlorhexidine is a chemical antiseptic that kills microbes.
Samples were taken from the throat area and from the trachea (breathing tube) at defined intervals.
And, the results.
Potentially disease-causing bacteria that were not present at the start of the study were identified in the throat samples from 8 patients treated with Lp299 and 13 treated with chlorhexidine — not a significant difference.
Analysis of samples from the trachea (airway) gave similar results.
The bottom line?
Chlorhexidine is an effective way to lower the risk for growing bacteria that can lead to pneumonia in these patients.
This is the first study to show that the probiotic Lp299 is as effective under these conditions.
11/7/08 19:13 JR