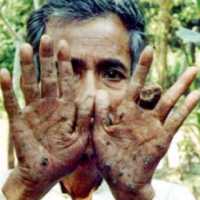 HemOnc Today has reviewed the historic and current role of arsenic in the mainstream treatment of cancer today.
Here's a brief summary of its current use.
Acute promyelocytic leukemia (APL)
A cancer where there are too many immature blood-forming cells in the blood and bone marrow.
Injectable arsenic trioxide (Trisenox) is approved to treat APL.
40 patients with relapsed or refractory APL responded to arsenic trioxide transfusions.
The drug works by converting immature cancerous white blood cells into normal white blood cells, which can lead to an increase in white blood cell count.
High-risk multiple myeloma
A cancer that affects antibody-producing white cells in the blood.
Researchers from the University of Arkansas conducted a study that demonstrated arsenic trioxide activity in end-stage, high-risk multiple myeloma.
4 of 9 patients completed more than 30 days of treatment.

2 had greater than 50% reduction in abnormal myeloma protein.
1 had stable disease.
1 progressed.
The bottom line?
Author, Dr. Harry Jacob concludes, "Despite its carcinogenicity and the toxic effects associated with long-term exposure, scientists and physicians have used the poison successfully in practice to treat numerous ailments and diseases."
True enough, but the current issue regarding arsenic is not its use in known amounts and carefully controlled dosing regimens. Rather, its presence as a contaminant and undocumented ingredient in Ayurvedic medicines (discussed here and elsewhere on this blog) is what's worrisome.
In 1 study, the authors speculated that the presence of arsenic as a toxin might be a result of pesticide use or growing plants in contaminated soil.
11/11/08 20:38 JR