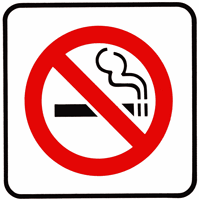 After 6 months, twice as many smokers who chose hypnotherapy remained smoke free compared to those going "cold turkey," according to this report at last year's meeting of the American College of Chest Physicians.
First, the details.
67 patients admitted to the North Shore Medical Center in Salem, Massachusetts, with a diagnosis of cardiopulmonary disease and a willingness to stop smoking participated.
They were divided into 4 groups.

Quit smoking without any support (control)
Hypnotherapy
Nicotine patch replacement therapy (NRT)
Hypnotherapy + NRT

Patients selected their own treatment.
And the results.
Women were more likely to choose hypnotherapy.
Men were more likely to choose a patch or go cold turkey.
The percent of participants who were smoke free at 26 weeks:

25% of the control group
16% with NRT
50% of the hypnotherapy group
50% of the hypnotherapy + NRT group

Success was greater among those with a diagnosis of heart disease vs lung disease, at 46% vs 16%, respectively.
The bottom line?
A Cochrane review from 2005 concluded that hypnotherapy was not more effective in achieving 6-month quit rates than other treatment or no treatment.
Lead researcher, Dr. Faysal Hasan believes that motivation is the key to success, rather than the specific treatment. In his study, "patients made their own [treatment] choice," he said. "Smoking cessation is only going to work if the patient is motivated."
Few smokers are successful with their very first attempt. The author of the Wikipedia entry on smoking cessation wrote that success might require 7 to as many as 15 attempts. Each attempt is a learning experience that moves them that much closer to their goal of eventual permanent freedom from smoking.
11/11/08 18:26 JR