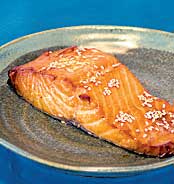 The University of Maryland website has a review of omega-3 fatty acids.
Here are the essentials
The body doesn't make them.
They must be obtained from food or supplements.
Three major types: alpha-linolenic acid (ALA), eicosapentaenoic acid (EPA), and docosahexaenoic acid (DHA).
Once eaten, ALA is converted to EPA and DHA, which are most readily used by the body.
Beneficial effects
Reduces inflammation and helps prevent heart disease and arthritis.
Important for cognitive and behavioral function.
May reduce cyclosporine side effects (ie, high blood pressure and kidney damage) in transplant patients.
Adding omega-3 fatty acids (specifically EPA) to etretinate (Tegison) and topical corticosteroids may improve symptoms of psoriasis.
Helps statins treat hypercholesterolemia.
Caution
If you take anticoagulants (drugs to "thin" the blood [warfarin, Coumadin]) make your physician aware that you are taking omega-3 fatty acid supplements.
The article also discusses how to take omega-3 fatty acids and more safety information.
12/7/06 09:55 JR