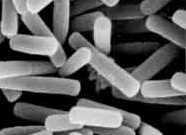 In patients predicted to have severe acute pancreatitis, giving probiotics didn't reduce the risk of infection, according to this study by researchers in the Dutch Acute Pancreatitis Study Group.
First, the details.
298 patients with predicted severe acute pancreatitis were randomly assigned to receive a multispecies probiotic preparation or placebo within 72 hours of the onset of symptoms.
Treatment was twice daily over 28 days.
Neither the researchers not the patients knew the treatment given — double-blind.
And, the results.
Infection occurred in 30% patients given the probiotics and in 28% of those given placebo.
16% of patients in the probiotics group died vs 6% in the placebo group — a significant difference.
9 patients in the probiotics group developed bowel ischemia (8 with fatal outcome vs none in the placebo group — a significant difference.
The bottom line?
According to the Medscape review of this study, the group getting probiotics was sicker than the placebo group.
Despite this significant difference in the 2 groups of patients and the effect it might have had on the results, the authors concluded, "Probiotics can no longer be considered to be harmless adjuncts … in critically ill patient."
Hmm.
8/30/08 14:00 JR