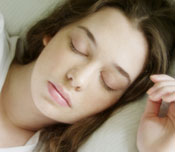 Prof. Ernst and colleagues reviewed the effectiveness of acupuncture administered to the ear to treat sleeplessness.
First, the details.
Among 433 articles, 10 were worth reviewing.
And, the results.
Magnetic pellets auricular acupuncture (AA) vs placebo AA in 3 studies
Results suggest beneficial effects on sleep efficiency compared to placebo AA.
Needle AA vs placebo AA in 1 study
Semen vaccariae (Wang bu liu xing) or magnetic pellet AA vs conventional drugs (estazolam or diazepam) in 4 studies.
Favorable effects for AA were found.
Info on semen vaccariae is here.
Thumbtack needle AA vs. no treatment in 2 studies
Beneficial effects of AA on a sleep score reported.
The bottom line?
Yes, there are some positive studies.
But the authors concluded, "because of the paucity and … poor quality of the data, … rigorously designed trials are warranted to confirm these results."
8/31/08 09:19 JR