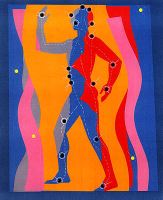 Researchers from the University of Melbourne in Australia review the results of 3 studies.
First, the details.
2 small studies of mixed pelvic/back pain and 1 large high-quality study on pelvic pain were reviewed.
In each study, treatment options included usual care (A) plus the acupuncture treatment (B) or usual care (A) alone — A + B vs A.
And, the results.
Acupuncture in addition to standard treatment was superior to standard treatment alone and physiotherapy in relieving mixed pelvic/back pain.
Women with well-defined pelvic pain had greater relief of pain with a combination of acupuncture and standard treatment, compared to standard treatment alone or stabilizing exercises and standard treatment.
Few and minor adverse events were reported.
The bottom line?
The authors conclude, "Limited evidence supports acupuncture use in treating pregnancy-related pelvic and back pain."
But the results are clouded by the study design (A + B vs A), which may predispose to erroneous positive findings with acupuncture. More on this is here.
8/25/08 20:59 JR