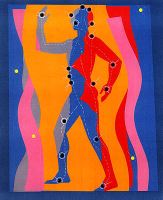 Adding acupuncture is more effective than doubling the proton pump inhibitor drug (PPI) dose in controlling gastro-esophageal reflux (GERD) symptoms in patients who failed standard-dose PPI.
Examples of PPI drugs include the following.
Omeprazole (Losec)
Esomeprazole (Nexium)
Lansoprazole (Prevacid)
Pantoprazole (Protonix)
Rabeprazole sodium (Aciphex)
They're used to heal stomach and duodenal ulcers, and gastro-esophageal reflux (GERD) — a condition where acid leaks from the stomach into the esophagus.
Currently, when the standard dose of PPI fails to heal the ulcer or control GERD the dose might be doubled, even though doubling the dose does not double the drug's effectiveness. The aim of the study was to determine if adding acupuncture was more effective than doubling the PPI dose in GERD patients.
First, the details.
30 patients with heartburn who continued to be symptomatic on standard-dose PPI were enrolled into the study.
All participants underwent upper endoscopy while taking the PPI once daily.
Patients were randomly assigned to adding acupuncture to their PPI or doubling the PPI dose for 4 weeks.
An expert delivered acupuncture twice a week.
And, the results.
The acupuncture + PPI group demonstrated a significant decrease in the daytime and nighttime heartburn, and acid regurgitation scores compared to the start of the study.
Doubling the PPI dose did not demonstrate a significant change in their condition.
General health significantly improved in the acupuncture + PPI group.
The bottom line?
Hmm. Do it again with more patients.
9/19/07 20:59 JR