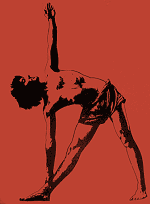 Among other things, yoga improved exercise tolerance, according to this study from Georgia State University in Atlanta.
First, the details.
19 people with chronic heart failure (ranging from mild to marked) were randomly assigned to yoga treatment or standard medical therapy.
And, the results.
Exercise time and heart work (measured by VO2 peak) significantly improved with yoga vs standard medical care.
There were statistically significant reductions in serum levels of IL-6 (interleukin-6; pro-inflammatory protein) and hsCRP (C-reactive protein; test for risk of heart attack) and an increase in extracellular superoxide dismutase (EC-SOD; detoxification of reactive oxygen species) with yoga.
Quality of life scores improved 26% with yoga group vs 3% in the standard care group.
The bottom line?
In addition to exercise tolerance, there were improvements in a range of laboratory test, consistent with benefits for the heart.
But it's a very small group of patients with a range of heart dysfunction, and earlier studies in small groups show inconsistent results here and here.
6/10/08 11:08 JR