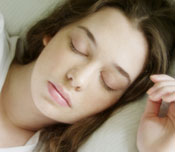 At the Annual Meeting of the Associated Professional Sleep Societies (SLEEP 2008), researchers from Brazil reported that late night snacking has an effect on sleep patterns.
First, the details.
52 healthy adults completed a 3-day food diary.
They were also subjected to an overnight polysomnography to determine their sleep patterns.
And, the results.
Total energy intake correlated significantly with sleep fragmentation and with the apnea–hypopnea (underbreathing) index.
A similar association was found for late-night-snack energy intake and sleep patterns, with a statistically significant correlation with awakenings during sleep and the apnea–hypopnea index.
The bottom line?
"When you eat more, especially at night, you may have more sleep fragmentation, and a higher apnea–hypopnea index [score]," concluded the researchers.
In a Medscape interview, Dr. Saul Rothenberg from the North Shore–Long Island Jewish Health System in New Hyde Park, New York said, "The issue of whether food intake can modulate sleep and modulate circadian patterns is one that has only recently started to become investigated in a careful, scientific way,… but the idea that there is another setting or resetting mechanism for circadian rhythms [related to] the availability or absence of food is an extremely important issue, and it expands greatly our understanding about the regulation of circadian patterns."
Yea, what he said.
And skip that late night snack too.
6/17/08 19:36 JR