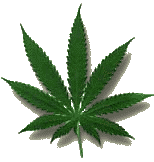 According to this study by Dr. Murat Yücel at the University of Melbourne in Australia, heavy, long-term marijuana use was associated with significant changes in hippocampus and amygdala volumes by -6% to -12%.
First, the details.
15 carefully selected long-term, heavy cannabis-using adult men were compared to 16 matched volunteers with no history of marijuana use.

The marijuana group smoked more than 5 joints per day for longer than 10 years.

All participants had no history of multiple drug abuse or neurologic/mental disorder.
High-resolution (3-T) structural magnetic resonance imaging was used to scan their brains.
And, the results.
Cannabis users had significantly smaller hippocampal and amygdala volumes.

The hippocampus is important for learning and memory.
The amygdala is involved in generating emotions, and developing memories.

And left hemisphere hippocampal volume became significantly smaller as marijuana use increased.
Positive symptom scores were significantly associated with cumulative exposure to cannabis.
Cannabis users performed significantly worse than nonusers on verbal learning — although this did not correlate with regional brain volumes in either group.
The bottom line?
Heavy doses of cannabis may be toxic to your brain.
Or, in more technical terms, "These results provide new evidence of exposure-related structural abnormalities in the hippocampus and amygdala in long-term heavy cannabis users and corroborate similar findings in the animal literature. These findings indicate that heavy daily cannabis use across protracted periods exerts harmful effects on brain tissue and mental health.
The reasons that earlier studies did not find this correlation might be due to the use of less sensitive measuring tools, better screening of volunteers for this study, or less marijuana use by the volunteers in older studies.
6/3/08 13:45 JR