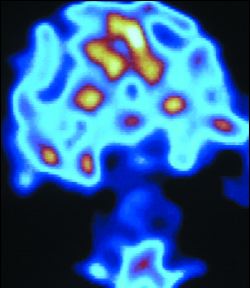 Researchers from the Institute of Child Health in London tested the ketogenic diet in a randomized controlled trial.
First, the details.
145 children, 2 to 16 years old with at least daily seizures (or more than 7 seizures per week) participated in the study.
They were randomly assigned to a ketogenic diet, either immediately or after a 3-month delay, with no other changes to treatment.
73 were assigned to the ketogenic diet and 72 to the control group.
The participants had failed to respond to at least 2 antiepileptic drugs, and had not been treated previously with the ketogenic diet.
The family and researchers were aware of the treatment given.
Seizure frequency was assessed after 3 months and compared to the control group.
And, the results.
103 children, 54 on the ketogenic diet and 49 controls completed the study.
Among those who didn't complete the study, only 6 reportedly became intolerant to it.
After 3 months, there were significantly fewer seizures with the diet vs the controls when compared to the start of the study (62% vs 137%, respectively; a 75% decrease).
28 children (38%) in the diet group had greater than 50% seizure reduction vs 4 (6%) in the control group.
5 children (7%) in the diet group had greater than 90% seizure reduction compared vs none among the controls.
There was no difference in the effectiveness of the treatment between symptomatic generalized or symptomatic focal seizures.
The most frequent side effects were constipation, vomiting, lack of energy, and hunger.
The bottom line?
The authors concluded, "Results from this trial of the ketogenic diet support its use in children with treatment-intractable epilepsy."
A review about 2 years ago, reported somewhat better results and a higher dropout rate over 2 years of treatment compared to the 3 months reported in this study.
As an alternative, others have reported seizure control in similar groups of children using the Atkins diet.
5/6/08 22:23 JR