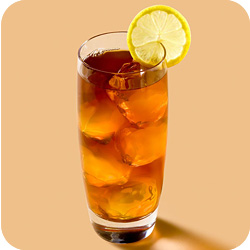 In an earlier post I stated that tea "has low toxicity."
That's still true, but here are some people who developed toxicity from drinking too much tea.
Dr. Julie Hallanger Johnson and colleagues from the Mayo Clinic reported 4 patients with bone disorders that resulted from chronic fluoride exposure due to excessive tea drinking.
It turns out that tea often contains high levels of fluoride, and obsessive-compulsive drinking behaviors combined with kidneys that aren't working up to snuff might predispose to excessive fluoride intake and accumulation.
The article describes the typical findings in these patients
A discrepancy between the spine and hip bone mineral density.
Nausea, vomiting, and weight loss
Leg pain sometimes associated with stress fracture
Kidney dysfunction
Elevated blood levels of the enzyme alkaline phosphatase
How much tea do you have to drink to get "toxic?"
A lot! And you have to do it for a long time.
Patient 1: 6 liters (quarts) a day of iced tea, at triple the recommended concentration.
Patient 2: 10 to 16 cups per day
Patient 3: 15, 8-ounce glasses or more of iced tea daily combined with brushing teeth 10 times per day
Patient 4: 30-40, 8-ounce glasses of tea daily for the past 30 years
The bottom line?
Tea toxicity is rare in the US, but more common in areas of the world where tea drinking is more popular. Furthermore, these patients were compulsive: 3 out of 4 failed to stop drinking tea.
The authors explain that, "Tea leaves are well known to accumulate fluoride from the soil and contain approximately 98% of the fluoride in the tea plant (Camellia sinensis). Fluoride in tea is readily released and available with its preparation. Certain types of tea, such as black and ready-to-drink tea, have been found to have high levels of fluoride. In addition, older tea (lower grade), such as brick tea, contains higher amounts of fluoride than higher-grade teas. Decaffeinated and instant teas, which can contain substantial amounts of fluoride, have also been associated with fluorosis."
6/18/07 18:53 JR