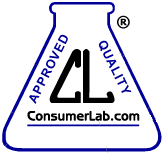 You'll have to join to get more details, but here are the top line findings.
Two supplements failed to pass ConsumerLab's recent tests of iron supplements.
One "high potency" supplement contained just 37% of its claimed iron.
A second supplement was contaminated with lead.
However, 17 other iron supplements met quality standards.
The bottom line?
I think they're giving less free information in their news releases.
Actually, the quality control reported by ConsumerLab with iron supplements is better than they've reported with other supplements tested.
As I've said before, I'm not associated with ConsumerLab. But they provide an important service that more people should know about.
5/6/08 23:01 JR